Move over Pope Francis, because marijuana just had the Best. Year. Ever.
From popular support nationwide to the federal government's decision not to oppose Colorado and Washington state's marijuana laws, to Uruguay's marijuana trade legalization, it has been a big year for the little green plant.
Here are the top 13 reasons why 2013 was the best year ever for weed:
1. Medical Marijuana Helped Kids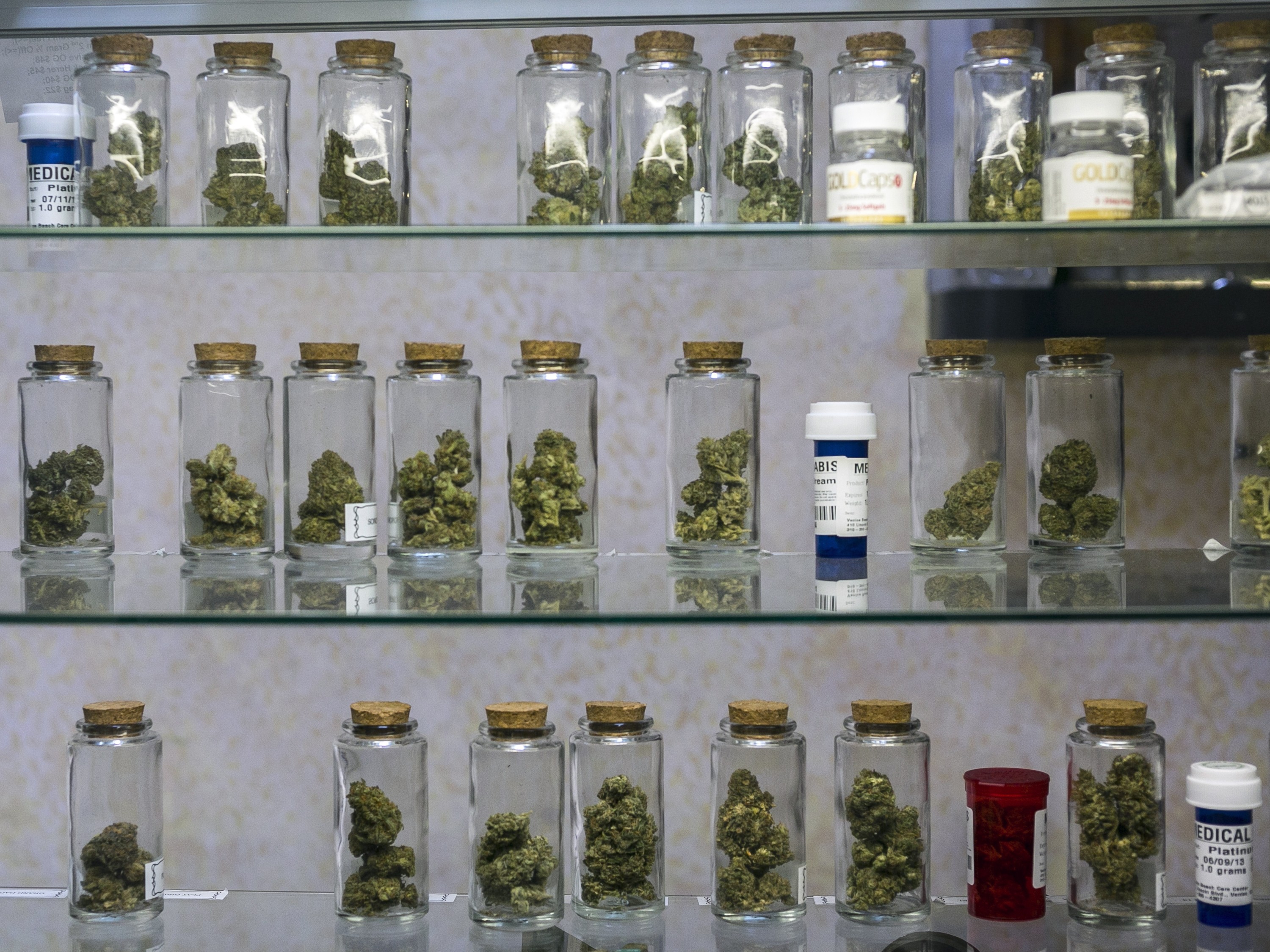 (AP Photo/Damian Dovarganes)
When people think of the typical medical marijuana user, 6-year-old Charlotte Figi may not be the kind of person who comes to mind. Charlotte, along with more and more children who experience debilitating epileptic seizures, saw tremendous benefits from using medical marijuana to help treat their condition this year. So much so that parents were uprooting themselves from around the countryto move to Colorado, where their children could take advantage of the state's medical marijuana laws and the high-CBD/low-THC marijuana varietal that six brothers in Colorado Springs have grown to help children with epilepsy. They named it "Charlotte's Web,"after Figi.
2. Marijuana Went Mainstream Tens of thousands of demonstrators smoke marijuana simultaneously at 4:20 p.m. at the 420 pro-marijuana rally in Denver on Saturday, April 20, 2013. (AP Photo/Brennan Linsley)
For the first time ever, a majority of Americans favored the legalization of marijuana — a whopping 58 percent, according to Gallup's October poll. That's alongside 83 percent of Americans who already supported marijuana for medical use.
Even CNN's chief medical correspondent Sanjay Gupta changed his mind about marijuana.
3. The Federal Government Said "Yes Weed Can" U.S. Attorney General Eric Holder. (AP Photo/M. Spencer Green)
The federal government took a historic step away from its long-running drug war in 2013, when Attorney General Eric Holder announced that the Department of Justice would let Colorado and Washington state's new recreational marijuana laws go into effect.
4. States Also Tried To Join The Green Rush (AP Photo/Noah Berger)
Lawmakers in 31 states and the nation's capital introduced bills seeking to legalize medical marijuana, to decriminalize possession of marijuana, or to tax and regulate marijuana for adult recreational use, according to the Marijuana Policy Project. Two of those, Illinoisand New Hampshire, signed their medical marijuana bills into law this year.
And although they didn't pass, bills like the Respect State Marijuana Laws Act of 2013 and the Ending Federal Marijuana Prohibition Act of 2013 were introduced at the federal level, where the drug war has been waged for decades.
5. Marijuana Compounds Killed Cancer Cells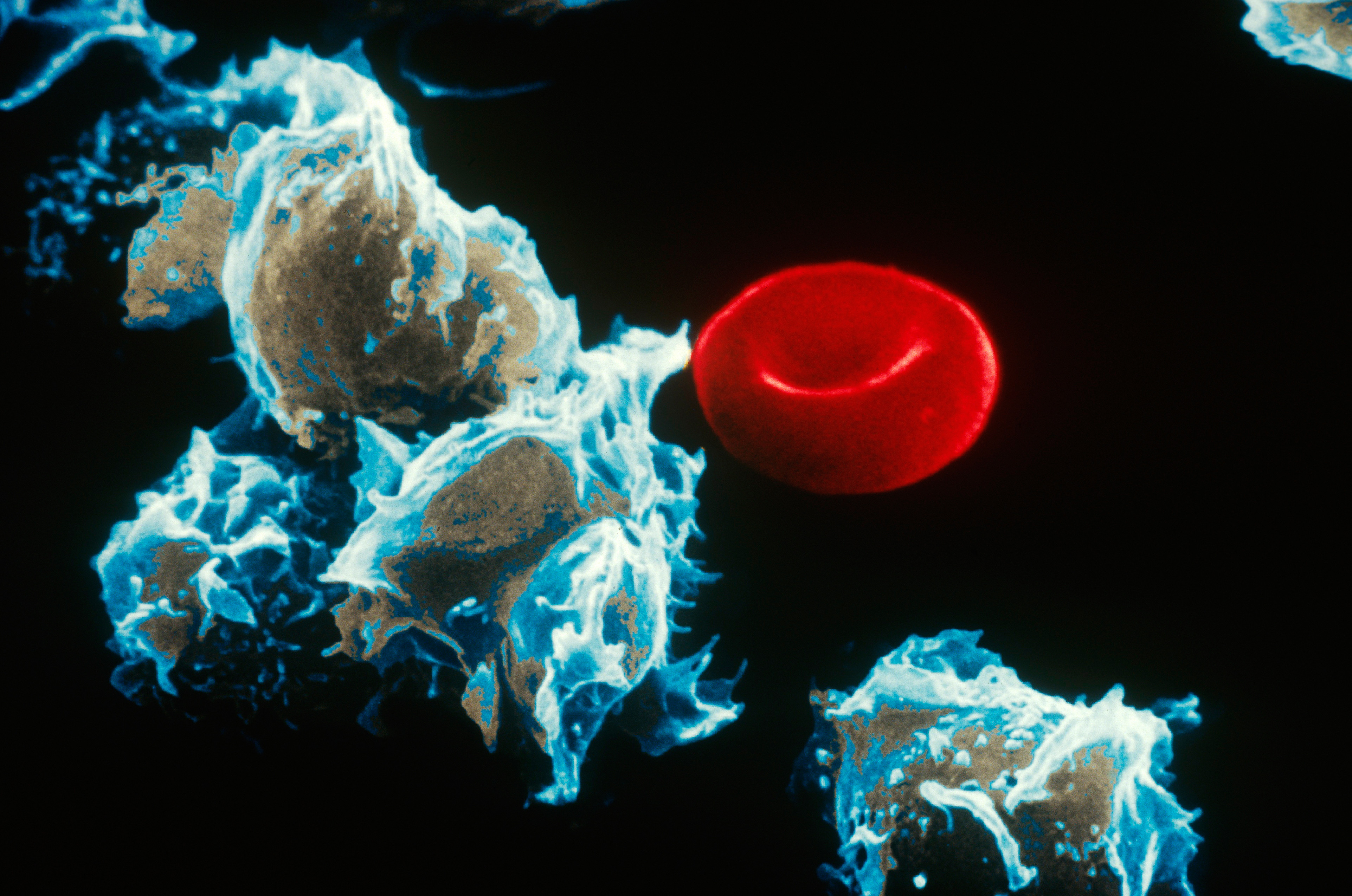 Color enhanced SEM of hairy cell leukemia, red blood cell for comparison (Getty).
If there was any doubt about medical marijuana's potential as a miracle drug, a scientist in the United Kingdom found that compounds derived from marijuana can kill cancerous cells in people with leukemia, a form of cancer that the National Cancer Institute has estimated will cause nearly 24,000 deaths in the U.S. this year.
6. Banking For Marijuana Businesses Was Actually Taken Seriously (AP Photo/Ed Andrieski)
One of the biggest problems for marijuana businesses is banking: Issues like taxes, payroll and even general business checking accounts are all negatively affected because of the federal government's stance against marijuana.
Worried banks, afraid of breaking a federal money-laundering law when entering into partnerships with state-sanctioned marijuana businesses, are finally getting much-needed guidance on how to provide services to these companies. The Department of Justice announced in 2013 that it is "actively considering" how to regulate interactions between banks and marijuana shops that operate within state laws and don't violate other federal law enforcement priorities.
In early 2014, marijuana businesses are unlikely to get access to all of the banking services that non-marijuana businesses already enjoy, but they are expected to get a "yellow light" from the feds as soon as the new year, according to Colorado officials familiar with the federal negotiations.
7. Hemp Was Grown On U.S. Soil (Again) Colorado farmer Ryan Loflin harvests hemp on his farm in Springfield, Colo. (AP Photo/P. Solomon Banda)
Farmers in Colorado made history this year when they harvested the first hemp crop produced in the U.S. since 1957. In October, Hemp advocates across the nation came to harvest 55 acres of the crop planted by Springfield farmer Ryan Loflin in May.
8. Marijuana Legalization Brought Us Together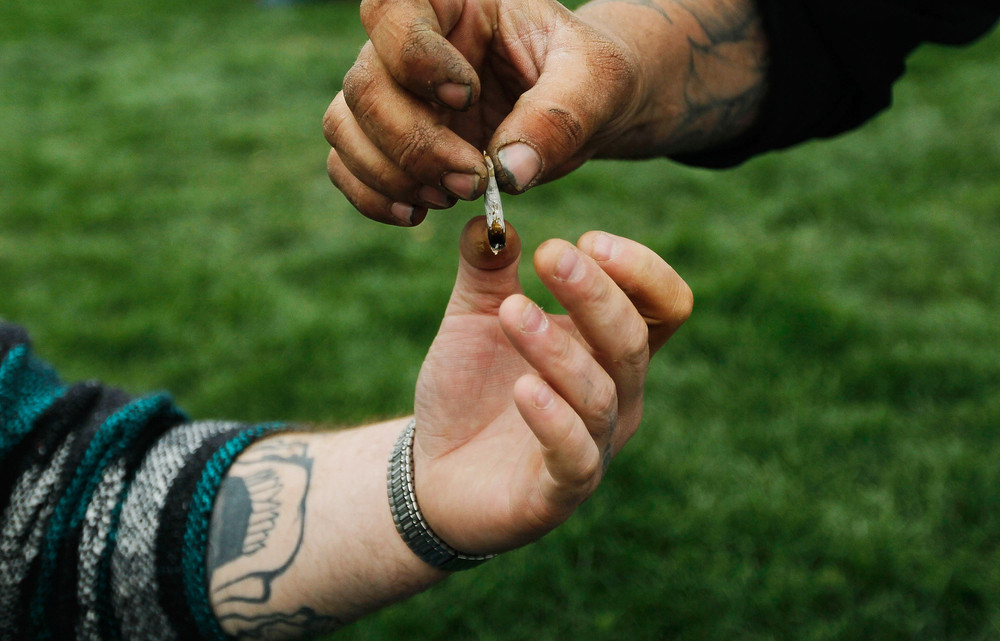 (Photo by Chris Hondros/Getty Images)
In a recent poll from Reason-Rupe, majorities of Democrats (55 percent) and independents (51 percent) favored the legalization of marijuana.
Despite a strong libertarian streak in the GOP, a majority of Republicans surveyed still opposed its legalization. But two out of three groups isn't bad.
9. The World's First Recreational Marijuana Sales License Was Issued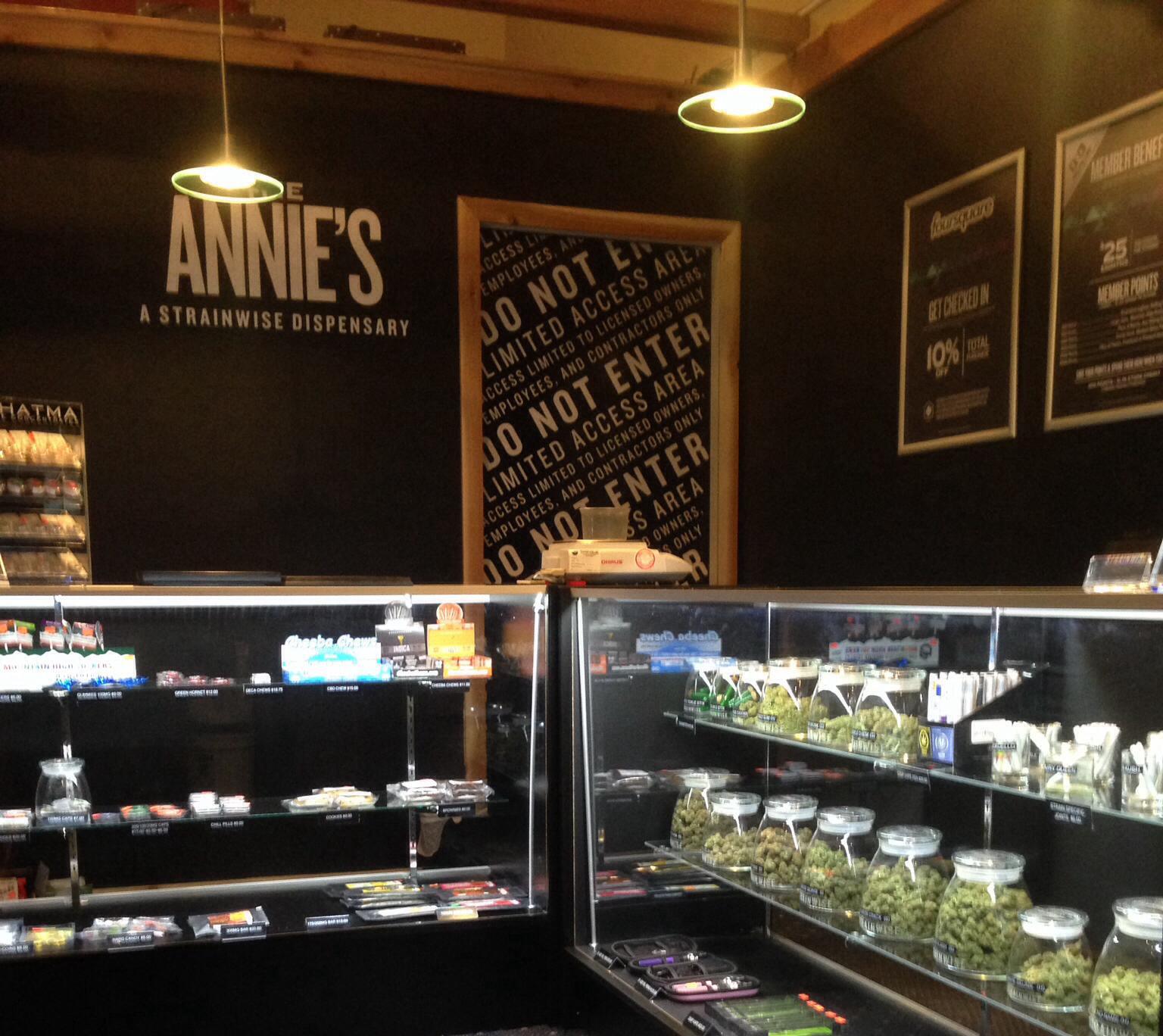 Photo from inside Annie's in Central City, Colo. (Photo: Strainwise)
The world's first recreational marijuana retail license was granted to a dispensary in Colorado in November. Recreational marijuana shops in the state will debut in the U.S. on Jan. 1, 2014.
10. Marijuana Business Poised To Grow Faster Than Smartphones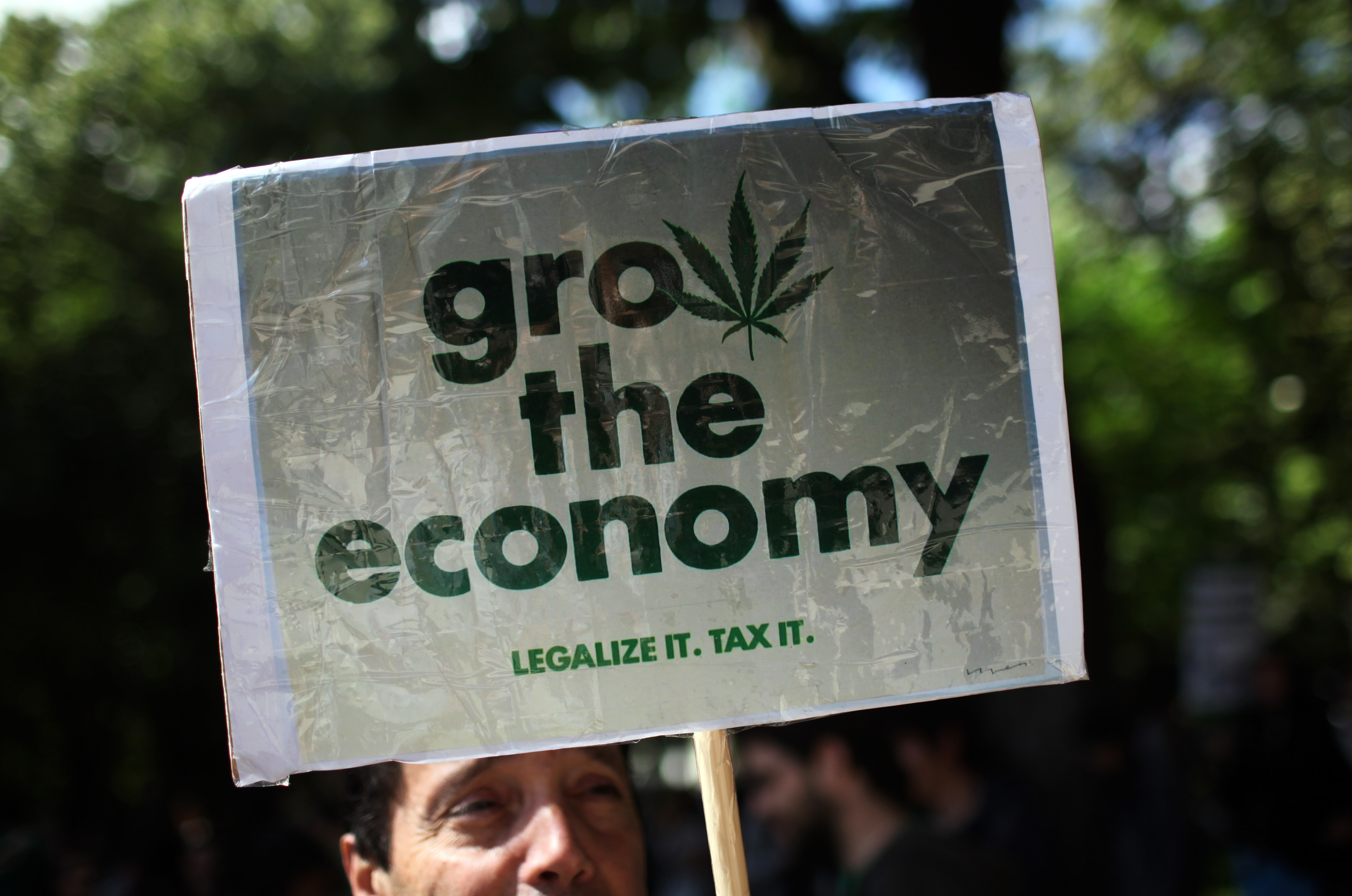 (AP Photo/Armando Franca)
Cannabis has been called "the next great American industry," and with legal marijuana among the fastest-growing markets in the U.S., it's no surprise. The legal marijuana market is growing so fast that it's poised to outpace the growth rate of the global smartphone market.
11. Study Showed Pot Smokers Are Skinnier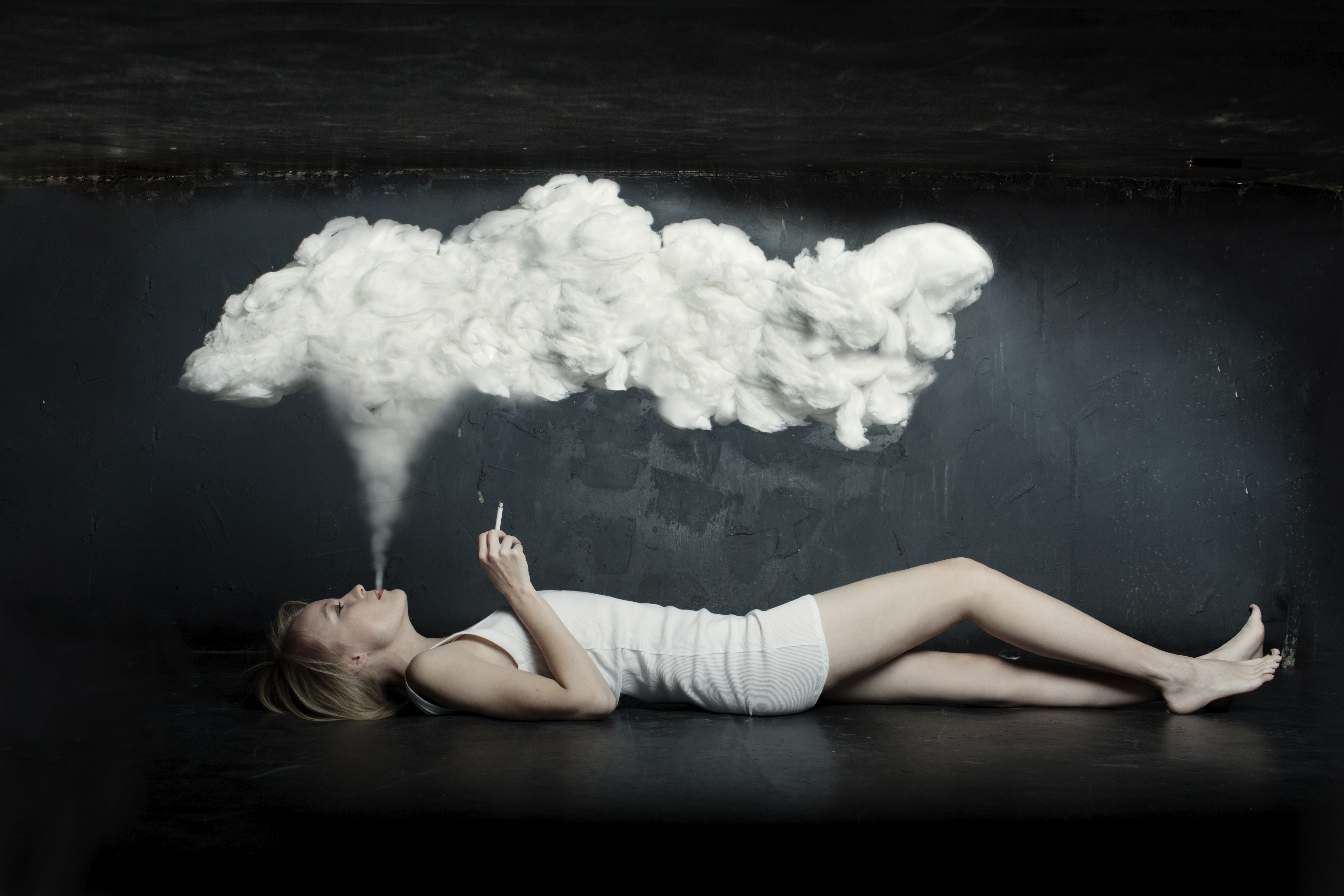 (Getty)
Despite the popular stereotype of the munchie-loving pothead, a 2013 study showed that marijuana users not only had smaller waistlines, but that their bodies also had better insulin control. That comes in addition to scientific reports that found a lower incidence of diabetes among pot smokers.
12. Thousands Of People Will Not Be Prosecuted For Pot Possession Because Of New Laws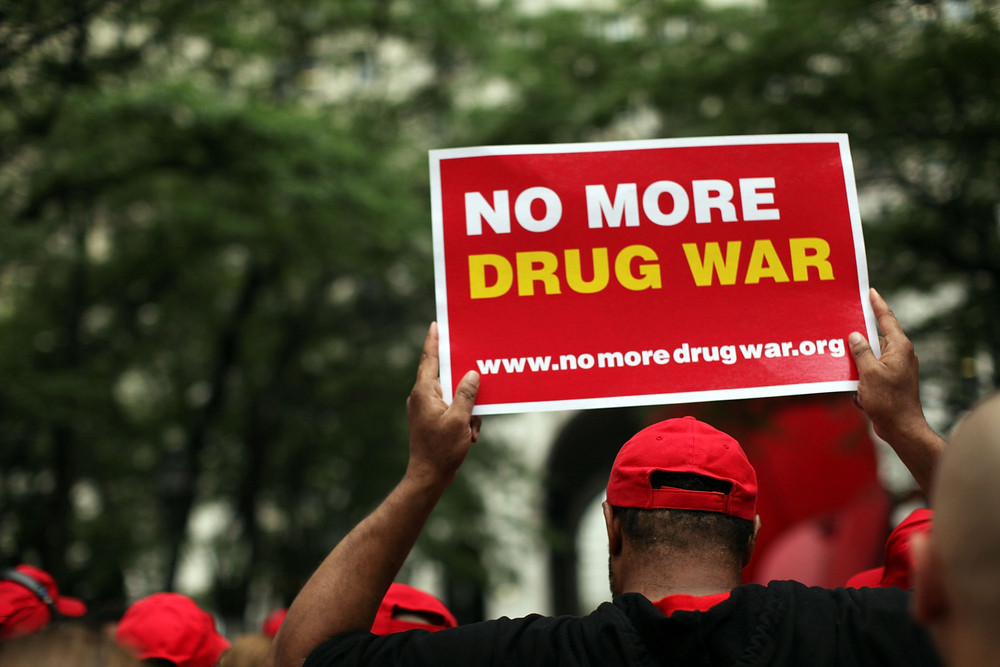 (Photo by Spencer Platt/Getty Images)
Nationally, one marijuana arrest occurs approximately every 40 seconds – in other words, roughly 750,000 marijuana arrests occur each year, and most are for simple possession for personal use. But thanks to legalization and decriminalization laws nationwide, thousands of people will not be arrested, or face additional charges, over weed.
13. The First Country In The World Legalized Weed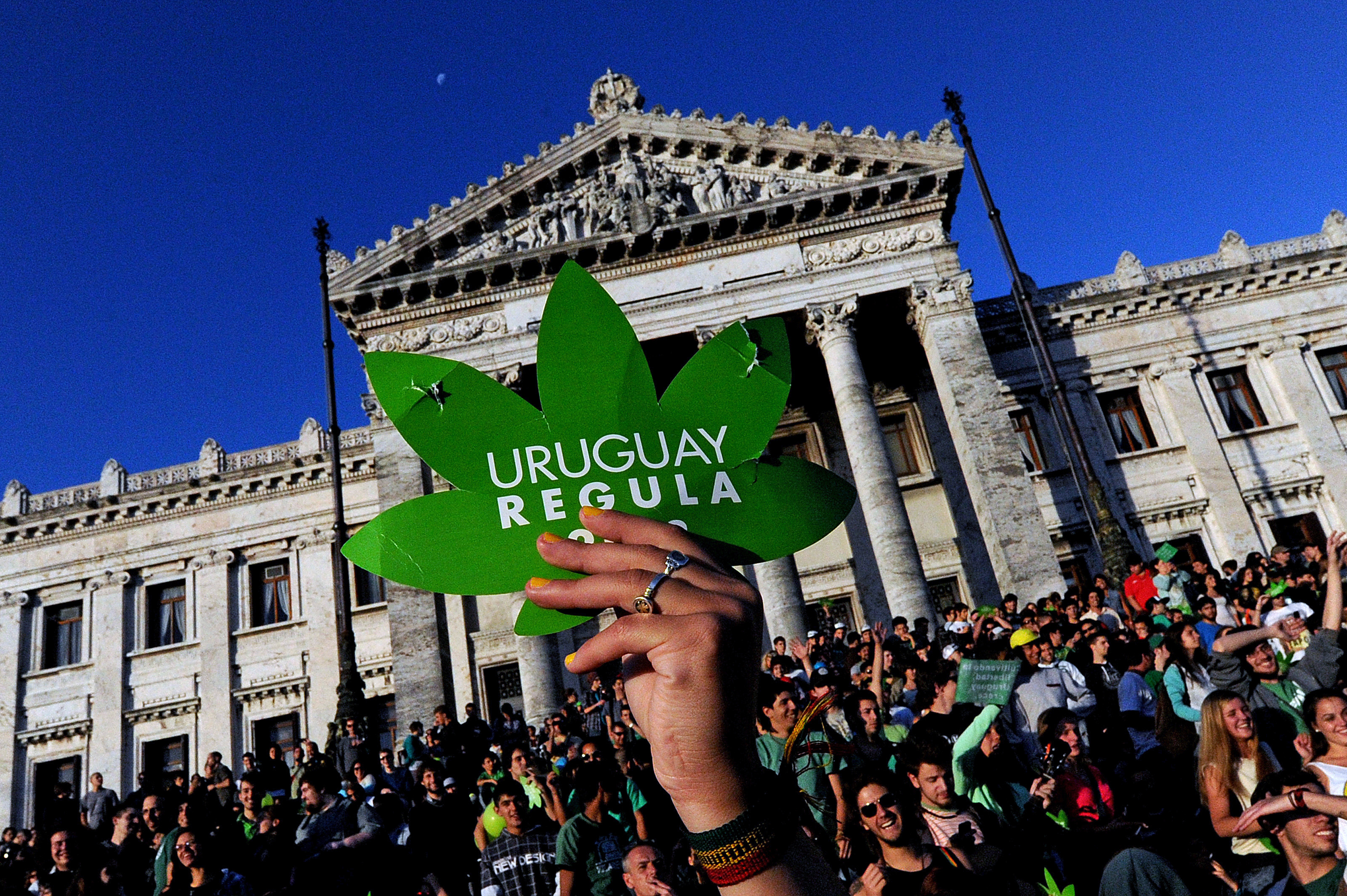 Uruguayans demonstrate in support of marijuana legalization in front of the Legislative Palace in Montevideo on Dec. 10, 2013. (PABLO PORCIUNCULA/AFP/Getty Images)
After taking advice from marijuana reform advocates in Colorado and Washington, Uruguay voted to become the first nation in the world to legalize the sale and distribution of marijuana.
13 Reasons Marijuana Just Had The Best Year Ever
Article by Matt Ferner for Huffington Post
Comments
comments