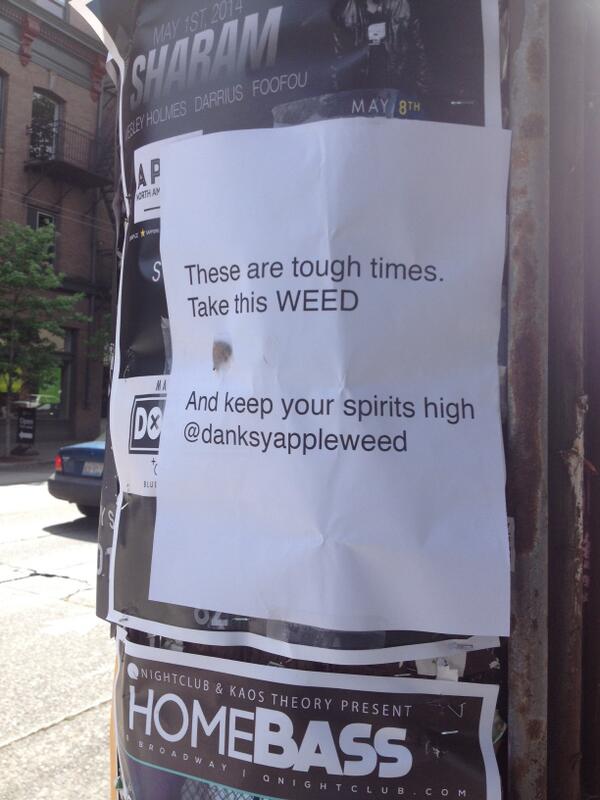 The magical "weed fairy" is back. This time she's landed in Seattle where she's giving away free pinches of marijuana to try and help "keep spirits high" in the Emerald City.
Residents began seeing flyers taped to street poles around Seattle's Capital Hill area last week with this uplifting message: "These are tough times, take this weed, and keep your spirits high" — along with the weed fairy's Twitter handle and a small amount of cannabis.
The weed fairy, also known as Danksy Appleweed also known as Yeni Sleidi, is only in town for a few weeks, she told Seattle's Fox affiliate KCPQ.
Sleidi made headlines last year when she left small bags of marijuana taped to flyers all around Brooklyn during the government shutdown to help lift spirits. Back then she was a bit more discreet, telling HuffPost Live that she was unsure about just how legal or illegal it was to be giving away free weed in New York, where recreational use is still banned.
But with Washington state having legalized recreational marijuana back in 2012 and the first legal sales in the state expected to begin later this year, Sleidi is feeling more confident, saying that she's not worried about being arrested for her giveaways.
"I've been more open about it in Washington. They have worse things to worry about; I don't think they are going to come after the weed fairy," she told KCPQ.
While only in town briefly, Sleidi has been productive, already posting around 40 flyers with free marijuana.
"It definitely makes me laugh to be the national weed fairy," Sleidi said.
'Weed Fairy' Leaving Free Pot Around Seattle
Article by Matt Ferner for Huffington Post
Comments
comments